About Us
About Us
Infiniti Computer Division has 7 years of experience in translation, transliteration, sub-titling, in various languages. It is the best place where you can find quality service with cent per cent accuracy!
ICD is a service provider which not only ensures in building its customer base, but also strives to provide them the best at the best possible price. Our mission is to create a long term relationship between the company and the customers by fulfilling their needs as per their requirements. From the era of our incorporation till today we have always provided our clients with the best result - whether it be translation , interpretation , localization , editing or audio visual linguistics. ICD has always endeavoured to ensure that the customers always keep coming back to us. This is possible only through our professional, accurate and timely services.
Mumbai being the economic capital of India, has certain advantages over other cities, such as the availability of professional and experienced workforce, 24 x 7 uninterrupted service, quick turn around time etc. If this is not enough Mumbai also provides easy access to new techniques and methods, a friendly and a competitive environment. The competitive environment pushes us towards more advanced techniques and approaches to bring a revolution in the language world.
About the Team
Mr. Osaid Koti, the Manager of the firm is an active and innovative person, who takes keen interest in any kind of projects or activities of the Company. He makes sure that he is always accessible, to the clients as well as project managers.
The core team of ICD comprises of Project Managers and their sub-ordinates who are highly skilled and well trained in their respective projects or jobs, whether it be translation / interpretation / transcription related. These highly motivated and self directed individuals work independently and are also co-operative. The co-ordination of the employees of various departments is highly appreciable and praiseworthy. The whole firm works as a family and under one roof.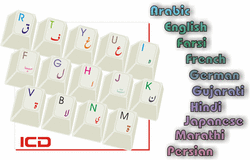 Other Departments
Data Entry
Graphic Designing
Printing - Screen Printing, Offset Printing, Four Colour Printing, Banners, Glow Sign Boards etc.
Translation, Transliteration, Interpretation and other language related works.
The major languages we master are - Arabic, English, Hindi, Marathi, Persian & Urdu.
Feel free to contact us :
icdmumbai@gmail.com